Salisbury Sketchers
Salisbury Sketchers are a branch of the Salisbury Group of Artists who meet once a month on a Sunday afternoon throughout the summer, to draw and paint at local Salisbury venues or nearby locations. There is no extra charge for these events and friends are welcome to accompany members. No specific skills are needed for these enjoyable and sociable afternoons.
If you are interested in joining please contact Loraine by emailing This email address is being protected from spambots. You need JavaScript enabled to view it. or phone 07496 894568
---
A report by Loraine Sherlock
This was our last outdoor sketching event and fortunately it was a lovely sunny afternoon albeit a little chilly by the river.
Some members chose to sketch from Fisherton Bridge looking across at the Clock Tower or the grand building that was formerly the County Hotel, and now the King's Head owned by Weatherspoons. Others chose a place along the river that flows along to Crane Bridge. There was a lovely atmosphere around us with families enjoying time with their children who were probably excited about going to the Charter Fair in the Market Square.
It was good to chat to a visiting Australian lady who was an Urban Sketcher in her country, and who was pleased to meet fellow artists in Salisbury.
I have arranged for entry to the Cathedral for the last sketching afternoon of the year on Sunday, November 19th. Members living within the SP1,
SP2, and Laverstock areas are allowed free access but have been asked to bring proof of postcode in order to gain free entry. Free
entry also applies to Friends of the Cathedral.
I apologise to members wishing to join us from outside these areas as they will be required to pay £9 for their visit if they
book in advance, (details on the Cathedral website). Otherwise the fee is £11 on the day.
I am sure we will all take care with any paint materials being used, and also be respectful to other people wishing to enjoy
this beautiful building.
If you would like further details please contact me on This email address is being protected from spambots. You need JavaScript enabled to view it. or phone 07496894568. Loraine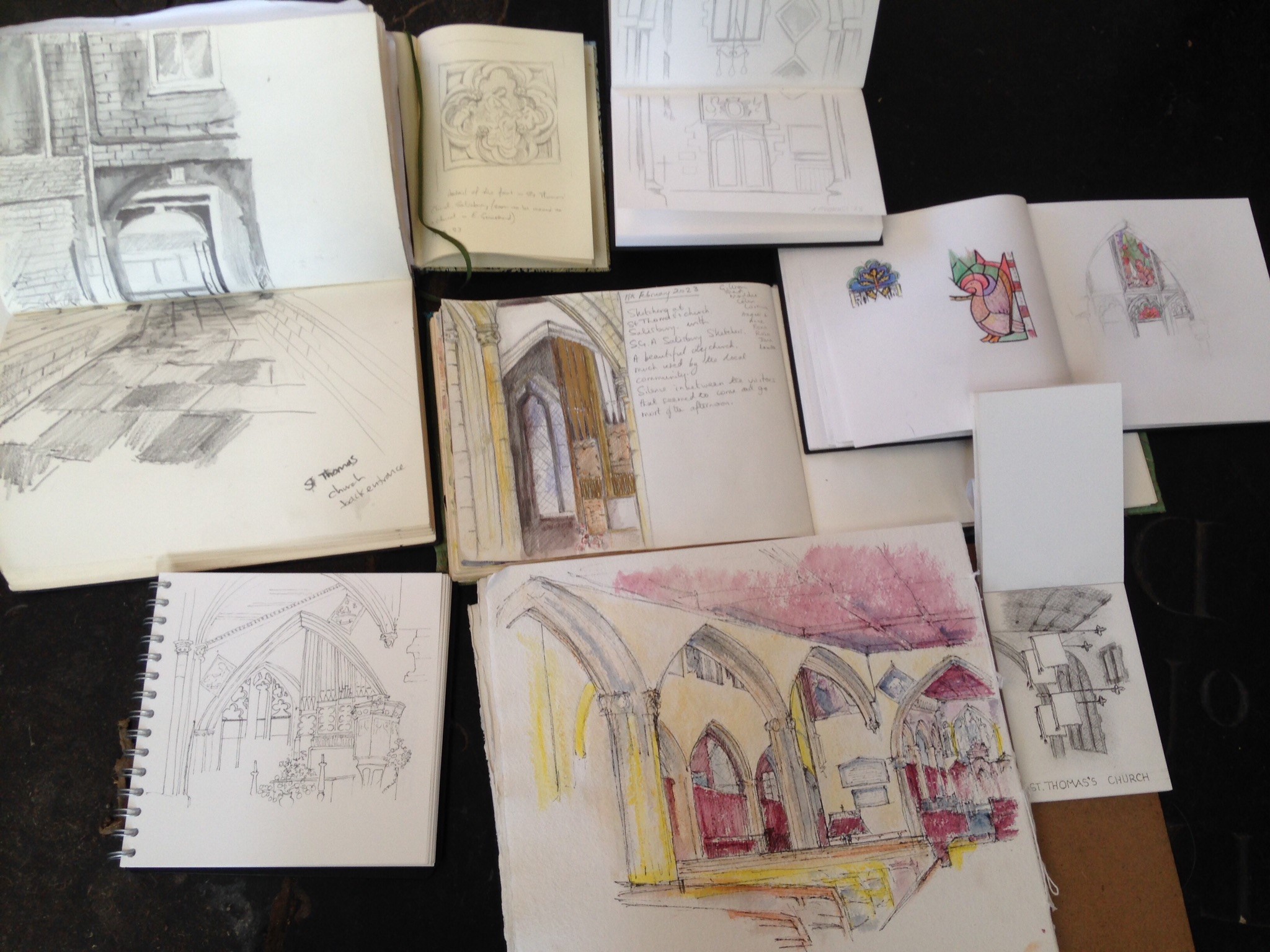 Visit to St.Thomas's Church, Sunday, February 19th, 2023
This is the first time since the Sketchers began that we have started our programme of events in February, as in the past we always waited until April when we hoped the weather would be suitable for sketching outside.
However, at the request of the group last year, I arranged an interior location to start off 2023.
This was the beautiful setting of the medieval St.Thomas's church, the parish church of the City that is very much a community space for local residents as well as attracting visitors who come to admire the Doom painting, the largest and best preserved in England situated above the chancel arch. This location was a real challenge for us, particularly knowing where to begin, should we pick a view of the interior, focus on smaller objects, or even sit outside in the churchyard and enjoy sketching on an usually warm February afternoon? What was revealed the end of the afternoon when we gathered to look at our work, was that amongst us we had produced rewarding variety of all of these viewpoints.
We all agreed that it had been an enjoyable time getting our 'artist's eye' back in after a winter break. Certainly, I found need to concentrate on the detailed architecture of the interior absolutely stretched my observational skills.
I have changed the date of the next meeting from March 19th (Mothers' Day) to the afternoon of Sunday, March 26th at 2.00 pm. I am currently arranging the next indoor venue and will hope to confirm this soon.
Please contact me if you would like to join us.
Loraine
07496894568
This email address is being protected from spambots. You need JavaScript enabled to view it.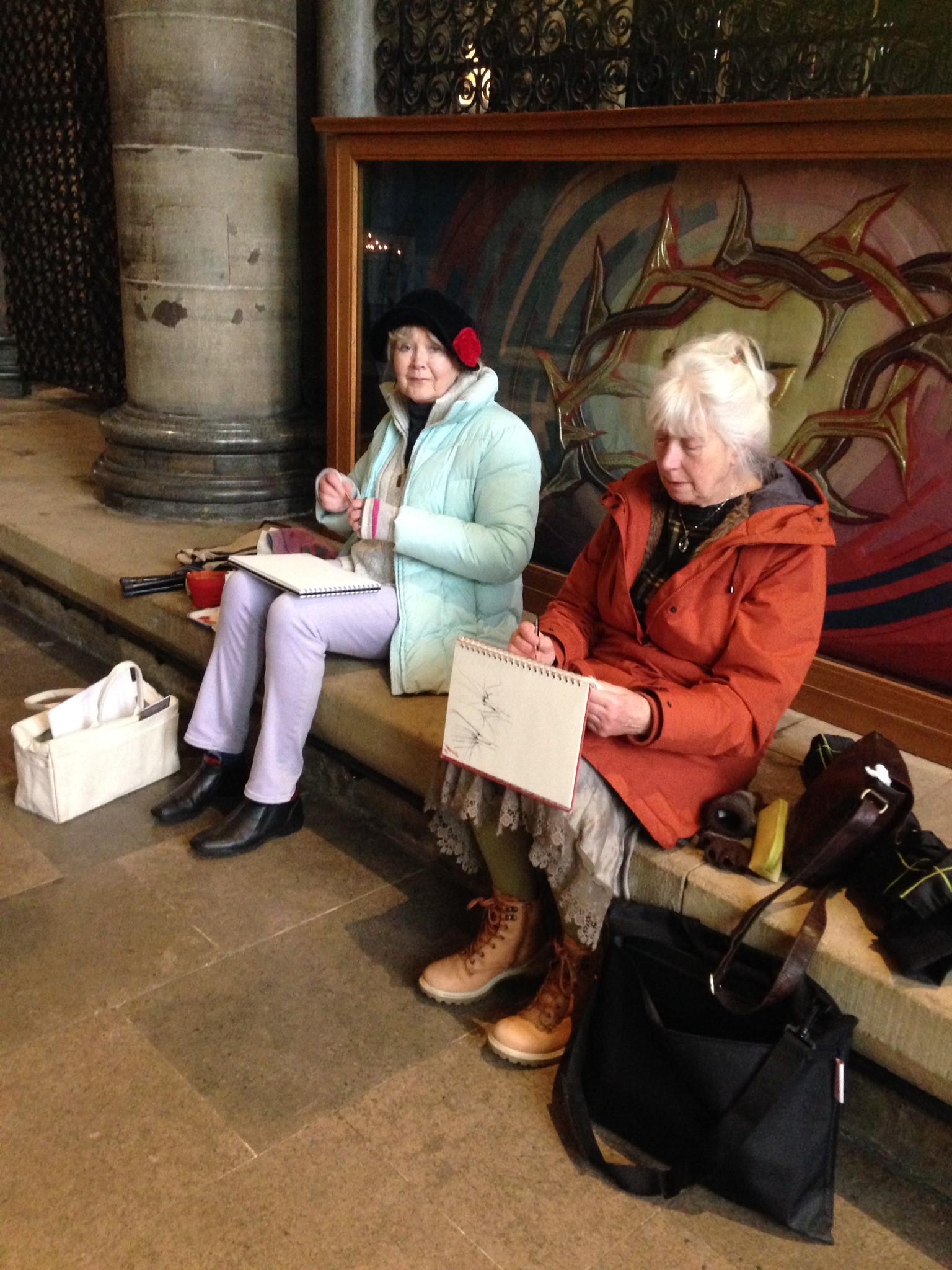 Visit to Salisbury Cathedral, Sunday, March 26th, 2023
Visit to Salisbury Cathedral, Sunday, March 26th, 2023
It was good to see all the members who came along to the Cathedral to draw and paint. I think I managed to make contact with everybody, but if you came and I missed you, my apologies - the Cathedral is a large space and everybody chose different places in which to work.
It is a magnificent and beautiful space, that provided daunting challenges from whatever spot was chosen. Drawing from observation you really take in the craftsmanship and skill of the masons that built the Cathedral, without any of today's modern equipment and how intricate some of the masonry carvings are.
There were many visitors wandering around but I think we all managed to find a place where we were not too disturbed. Halfway through the afternoon we were entertained by the organ playing that resonated throughout, and that left those of us close to it with a fantastic pounding in our ears! It made my afternoon.
I had a nice comment from one of the volunteers as she passed by, who said it was lovely to see us all spread around the Cathedral working on our sketches.
Our next sketching event will take place on Sunday, April 16th at Langford Lakes, Duck Street, Steeple Langford SP3 4NH. Meet in the car park at 2.00 pm.
Langford Lakes is a Wiltshire Wildlife Nature Reserve and you can find out more about it on their Website and Facebook page. Car parking is free. There is a lovely cafe with toilets and an outside veranda area. The paths around the lakes can be very muddy after rain so suitable footwear is recommended. You will need a chair or stool to sit on. As well as the lakes, there is a river area with bench on the opposite of the road from the car park entrance, or back up the road is the lovely little church and a riverside walk.
If like me, you don't have Satnav, then from Salisbury travel to Wilton then follow the A36 Warminster Road, through the villages of South Newton, Stoford and Stapleford. Approximately two miles from Stapleford, turn off left at the sign for The Langfords that takes you into the village. When you see the church steeple turn left into Duck Street and follow through until you cross a river bridge. The car park entrance is immediately left after the bridge.
If you would like any further information please contact me on 07496894568
or email - This email address is being protected from spambots. You need JavaScript enabled to view it..
Loraine